Contact has been made.
The race at Nashville was pretty typical for a Nashville race. Scott Dixon won, making it three straight. It rained for the second straight year, but we fortunately got an official race in (I really didn't feel like having to drive back up for a second day again). I got soaked and my Burkenstocks took a beating. The race itself was ok, but you simply cannot pass on that oval. The concrete and narrow track simply doesn't work. I always said if it was about 5 yards wider and had 6 degrees less banking, it'd be one of the best tracks on the circuit.
The race weekend, however, was significant not because of the race. It was because of the contacts made.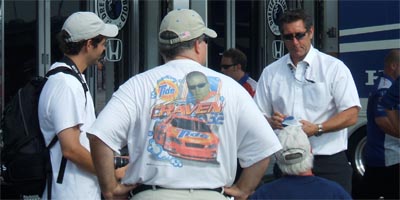 First, here's a picture of Tony George (and some dude with a NASCAR shirt) being enlightened by me. Tony was pretty nice to a mid-20s kid marking out to him and shook my hand. I was sure to mention the website.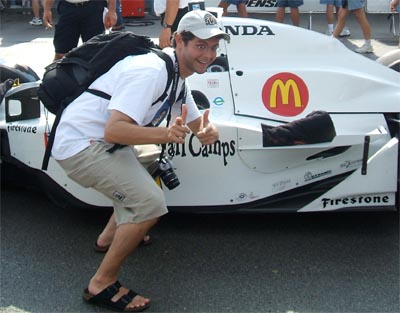 Second, here's a great shot of me with the #06 car as it waited for tech. The shirt was the Son of 'Stache shirt, and the crew members got a kick out of it. More importantly, however, was that Graham saw the shirt and briefly talked to me. Contact with the 'Stachean Nightmare was an essential step towards getting the stache grown. I saw him initially in a minivan, and later saw him driving on a cart from the drivers meeting with a lady and Justin Wilson. Justin particularly liked the shirt. Contact has been made. The 'stache will come with time.
Nashville puts on a great day for those in attendance. That said, the action is debatable at best and the promotion is weak. I can understand why it is somewhat expected to go, but it's a shame. It's my home track, at least geographically (I'd still call Indy home), and I always get closest to the action at it. That said, the crowd actually felt a little smaller, and while it outdraws the Busch and Truck races, it's not the best open wheel track. If it loses IndyCars, I question how long it stays open.
Pictures will probably be up tomorrow.