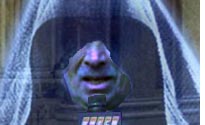 That's what Miller just said on The Speed Report.
In other news, Your IndyCar Overlord, Scott Dixon, won at Edmonton yesterday.  In a race that can be best characterized by its abysmal coverage, Dixon got ahead of Helio, and Helio made a braking mistake in the final laps to give Dixon enough space to run away with it.  ESPN did worse than normal this week.  Bob Jenkins sat in for Marty Reid.  He showed the energy of a bear in hibernation.  Marty gets railed in the IndyCar internet world, but at least he sounds interested.  I listened to the IMS Radio Network coverage of the first bit of the Brickyard 400 today, and Jenkins sounded more excited about the cab race than he did about the race yesterday.  Also, they must have only had two or three cameras at the track, and they just focused on one car.  Apparently there was a lot of passing, and PT made it from the middle of the field to fourth.  We would have never known from TV, though.  I did hear the radio did a much better job, though.  Jon Beekhuis was freaking awesome, though.  Get his butt on the crew full time stat.
On NASCAR, this freaking idiot on Speed just called it "a great race," and this other idiot is saying it was better than the USGP 2005.  Well, from this couch, the Michelin debacle was at least more entertaining because the announcers were calling BS.  These NASCAR shills saying today's race was a good race is a total crock of poop.  The fans deserved better.  Just as importantly, the most holy of race tracks deserved better.  Cousin Teddy said this was "the first and last NASCAR race he'll ever attend."  I don't blame him.   It was the worst race I've ever sat through. Goodyear and NASCAR should feel INCREDIBLE shame.  Now this fat idiot is saying it's IMS's fault and the track should be changed.  This show is really filling me with rage.  NASCAR fans, this is an example of how little they respect you and your intelligence as fans.