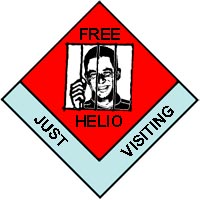 It was reported that Helio is allowed to race in Australia. Well, that's not exactly true, or at least yet. Thanks to My Man Fred, I've got the real details.
The hearing was held. The granted approval of the request to allow Helio to go to Australia was given. According to Docket 28, though, the order was stayed until the end of business on Tuesday, October 14th. This gives the U. S. Attorney time to appeal the decision. If no appeal is filed by then, Helio is free to go (to Australia).
In other words, Australia isn't officially official for Helio.