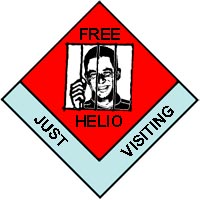 Helio Castroneves doesn't particularly care for the sixth amendment. Well, at least the part that gives him a right for a speedy trial. Today, Helio's attorney, Mark Seiden, requested to delay the trial from March 2009 till November. That would, conveniently, be after the 2009 season.
That is no coincidence, however, as one of the chief reasons given is that the March date unfairly puts Penske Racing into a state of limbo. Similarly, they argue that any trial before the end of the season puts Helio's contract at risk, even if he is acquitted.
In other trial news, there is a chance that Seiden will be disqualified because he may be a witness. The problem there is that he's the one that has been around the longest. Seiden argues that his disqualification puts Helio as a significant disadvantage, since another attorney would have to be retained. His backup is David Garvin, who has been retained for his tax knowledge. Garvin, though, has a busy schedule ahead should Seiden be disqualified. That could also be cause for a delay.
In looking at the affidavit supporting the delay from Penske Racing, I give you this quote:
[I]f the trial proceeds as scheduled on March 2, Penske Racing will be forced, in all likelihood, to change drivers now to avoid the risk that Mr. Castroneves will be unavailable for the entirety of the 2009 Series.
In other words, if this delay is denied, you can potentially anticipate the availability of the #3 open in short order.
Update:  The AP has a story up.  Judging timestamps, I just scooped the Associated Press.