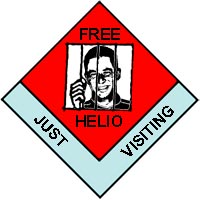 One of the arguments against Helio is that money from Seven Promotions, which is wholly owned by his father, is really just a shell to funnel money (they like to say monies in legal documents) through to avoid taxes.  Well, the prosecution is arguing that some of the potentially funneled money wasn't only ducking taxes in this country, but also in Helio's homeland of Brazil.  Currently, there's debate between the prosecution and defense over whether this is pertinent to the case at hand and whether an expert on the Brazilian Tax Code should be allowed to testify.  If allowed, this could certainly be damaging to Helio in the eyes of the jury.  It's one thing to have to defend the charges at hand, but the defense may also have to argue against charges not really at hand.  Really, they're trying to make four points by allowing the Brazilian allegations:
The prosecution thinks that Brazilian tax law proves the illegitimacy of Seven Promotions
They think it proves that money transferred from Coimex (a former sponsor of Helio's) through Seven Promotions was not legit
Brazilian tax law proves that ownership of Seven Promotions was owned by Helio and not his father, according to the prosecutors, and
Ma and Pa Castroneves never reported $500,000 that the prosecution claims was a gift and the defense claims was business expenses.
Not good for ol' Helio if this one gets through.  Those are a lot of arguments that I'm sure the defense would rather not deal with.
You can find a translated Brazilian article on his investigation down there here.