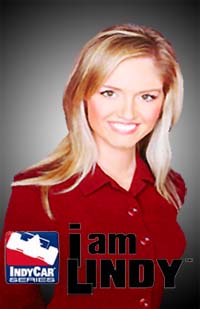 So I've never had an interview on this site…until now.  Lindy Thackston will be coming to a home near you as one of the three pit lane reporters for the Versus coverage.  First, I want to say thank you to Lindy for going through with this.  Second, as I hope you'll see in this interview or through her official website at lindythackston.com, she's not only a TV person, but she's a racing person.  Also, I think that if you've watched the preseason shows on Versus like myself, you're getting excited not only for the season, but for the Series getting the level of respect that it deserves.
Alas, I bring to you this site's first interview, with Versus pit reporter Lindy Thackston:
is it May yet?:  You don't have a Wikipedia page yet, so I have no way of knowing anything about you because that is how our generation learns things.  How would write the introduction to your own Wikipedia entry?
Lindy Thackston:  Lindy Thackston has always wanted a Wikipedia page, and now she has one.
iiMy:  As some readers may or may not know, you worked last season as a pit reporter last season for the American Le Mans Series (and will do so for ALMS Radio on XM radio).  How was that experience?  If you see Scott Sharp, tell him we miss him.
LT:  I am currently at the 12 Hours of Sebring… and I just told him!
I'm from Indiana, and I've always like racing. My family always went to the 500. I've always kept an eye on IndyCar as I traveled from TV station to TV station for 8 years doing local news.
I got an email about pit reporting for ALMS from a producer a couple years ago… and jumped at the chance.
It gave me a front row seat to racing – the perfect way to truly appreciate and understand the strategy and commitment it takes to even have your car on the entry list… the insane amount of coordination it takes to succeed on the track and in a pit stop… and to feel the intense heat when a car catches fire in its pit box and really understand the danger of the sport.
On the broadcasting side, it gave me hours and hours of live race coverage experience. It forced me to learn countless names, teams and car numbers (as ALMS has at least 2 drivers per car) and find my own way of organizing, working with the drivers and teams, and breaking it down so the fans understand and wants to stick around for the end… and the full season.
iiMy:  What challenges do foresee moving from the ALMS to the IndyCar Series?
LT:  The pit stops! ALMS – 40 seconds. IndyCar  - 7 seconds.
iiMy:  Having grown up in Indiana and being a former Indianapolis 500 Princess, I'm guessing the 500 was always present in one way or another in your past.  What do you remember about the 500 growing up?  Who was your favorite driver?
LT:  My parents, aunts and uncles and cousins would all stay at my grandparent's house the night before the race. We would cut the grid out of the newspaper and put all the names in a hat and draw.
All the adults would be up really early the next morning packing the coolers and would head to the track. All the grandkids stayed behind with my grandparents and listened to the race on the radio. Once I was older, I started going to the race… and then was chosen as a 500 Festival princess in 2001, my senior year of college.
I have a lot of drivers I have a lot of respect for… but ask my family, and they will tell you my favorite driver was always Arie Luyendyk.
iiMy:  Have you met Jack Arute yet?  He's America's Sweetheart, you know.
LT:  Yes I have! I met him at IndyCar testing at Homestead a couple weeks ago.
iiMy:  Did I see you doing coverage for Hurricane/TS Fay on your demo reel?  Yeah, this is probably more for my own curiosity than that of the readers, but what was that experience like?  You know, much like Jack Arute's tan, they say that hurricanes may be getting more intense because of global warming.
LT:  Parts of covering hurricanes are really cool – to see the ocean like that, the wind howling.
Then again – I am standing there in it, gripping a stop sign for dear life, telling you how unsafe it is to go out in it.
iiMy:  According to the bio on your website, LindyThackston.com, you are a Boilermaker (about an hour south of my alma mater, Valpo).  Who is the coolest alumnus of Purdue?  Neil Armstrong?  Orville Redenbacher?  You?
LT:  Hmmmm… this is a tricky one. Orville is from Valpo… Neil is Purdue… and I am me.
Neil's been in space. I love popcorn. And I don't think I'm too bad.
For now though – I say Neil Armstrong.
iiMy:  When you were a kid, what did you want to do when you grew up?
LT:  A whole bunch of different things like most other kids… but the goal that has never changed since high school is to drive the pace car for the 500. Ha.
iiMy:  It is not possible to have an interview without a Danica question:  As a woman, how did you feel after Danica's victory last season?
LT:  It's always exciting and inspiring to see a woman make history. Versus is airing hour-long preseason specials on Saturdays until the first race and last week's was on Danica… and it was a real eye-opener to see the path she's taken, and how she's grown as a driver.
iiMy:  What race do you most look forward to covering?  If the answer is Indy, what race would rank second?
LT:  I'm looking forward to Infineon Raceway since I've never been there and the track is pretty complex. But I love ovals – the month of May is really at the top of my list.
iiMy:  Many fans are excited about the increased coverage that will come along with the switch to Versus.  Do you have a feel for how Versus' coverage will differ from what ABC/ESPN has provided in years past?
LT:  Versus is going all out. It's really exciting. We are doing a one-hour show the day before each race for qualifying, and three hours of live coverage on race day! We are giving more time to IndyCar than fans are used to, and everyone is excited about giving it the coverage it deserves.
The plans we are working on for our broadcasts will give viewers and fans new access. We have more time to develop storylines and show people what they want to see… let them hear what they want to hear… be it Scott Dixon on his radio or a pit spotter talking to a driver.
I'm honored to be part of it. Some of the best in the motorsports broadcast business are on this crew behind the scenes, and I can't wait until the season is in full swing.
iiMy:  You've got two hours before your flight to Motegi for the race.  What is your last meal in the states before leaving for Japan?
LT:  Nachos and cheese and root beer… unless I'm in a layover at the Atlanta airport… then I'd have a cheese dog from Victory Lane in terminal C.
iiMy: If you could choose your own nickname among the internet IndyCar community, what would you dub yourself?
LT:  lindycar – I already get that A LOT