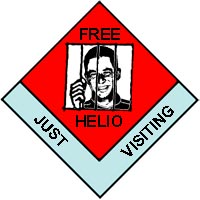 Roy Black has more tricks than Houdini.  Well, today the court provided some supplimental instruction to the jury regarding deferral of income. These instructions were, according to Helio's defense team, a substantial modification to the instructions originally given to the jury, with some additional language added to them.  The problem is that this violates Rule 30 of the federal code.  Now, I'm no tax law expert, but I do know you cannot change the rules midway through the case, and that's basically what they're claiming.  They say that they made their closing arguments based on one interpretation given to the jury, but a second interpretation was given once in deliberations.
Even if the mistrial is denied, they still want the rules further clarified for the jury.
Also, the court has said that the jury can ask specific questions on various bits of testimony and evidence.  Well, Ol' Roy Boy doesn't like that either, claiming that it intrudes on their rights to secret deliberations.  He's calling for a mistrial on that, as well.
To quote my guy Fred, don't count out Roy Black.
Also, for those of you waiting for a verdict, remember there are eighteen charges being considered here, and each is to be considered separately.  We may be a ways away from a verdict.
Update: To clarify, it's eighteen charges among Helio, Kati, and Alan Miller.
Also, even if these motions are denied, these can all be put forth simply to strengthen the right to an appeal.