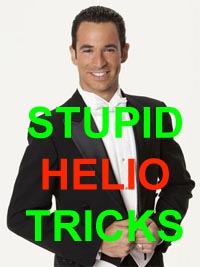 If ABC is The Mouse, what is CBS?  The Eye?  Well, tonight on The Eye, America's Favorite Fence-Climber is going to be on Letterman.  I'd set the TiVo, but I've already got it set to record Conan's Tonight Show debut.  I'm sure it'll make it online.  Plus, the interview is pretty easy to figure out.  "Eyyyyyymmmeee sooooo happppyyy toooooo juuuustttt raaaaacccceeee Daaaavvvveeeed."
Hey man, can you buy me a hot dog?
Speaking of hot dogs, PT blogged that he may or may not run for AJ in Texas.  No word has come across the wires yet (unless you believe an unsourced thread on TF saying that AJ Number 4 is running the #14).
The owners came together in support of Tony George.  Missing from the letter was Conquest, who wasn't present, and Vision, for obvious reasons.  That said, it would have been humorous to see Vision on the list. 
Tony Kanaan's performance at The Mile was impressive for a guy in obvious pain, but I kind of got freaked when his crew member was basically pulling him out of the tub while the engine was smoking.  Speaking of the engine smoke, did we see a Honda lump fail? According to their post-race PR, AGR's brain trust "do[es]n't know what went wrong."  Now let us never speak of this again.