Au Revoir, Au Revoir, Franckie!
AU REVOIR, SIMONE!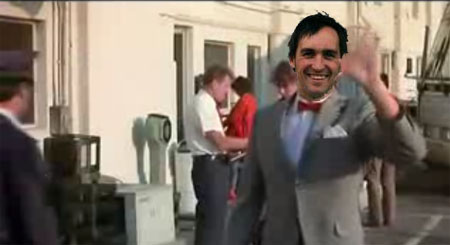 The French contingent of the IndyCar Series is going up from none to two next week in Sonoma.  In addition to Nelson Philippe, who has already been confirmed for Conquest for both Infine-yawn and Chicagoland, Andretti Green announced today that they're adding a fifth car for Franck Montagny for the race. 
Montagny has done some stuff.  He ran for Aguri Suzuki's F1 team for about half of a season, but didn't do much.  He's driven in a couple of 24 Hours of Le Mans for Peugeot.  He even started at Long Beach last year for Forsythe Racing in the Champ Car Finale, finishing second to Will Power. 
The only thing I can really find that he *won* was the 2003 World Series by Nissan championship, besting Heikki Kovalainen among others (including IRL legend Didier Andre in two races).
Of course, there's one Frenchman who would bring more credibility to the Series than these two, and his name is Sebastien Bourdais.  It amazes me how so many fans of this Series will relentlessly bash him, but the simple fact of the matter is that he was the Champ Car Champ the year prior to unification.  It's always been a shame that he wasn't around for it, and quite honestly, done some semblance of damage to a unified series. 
Oh, and the car will be sponsored by AFS (Automatic Fire Sprinklers), who has been associated with the AFS/AGR Indy Lights program and sponsored Marco at Long beach.