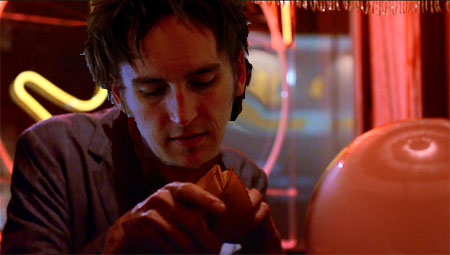 With the topic of ride buying, the bloggosphere has been, well, kind of enraged with the fact that Franck Montagny is getting a ride next week.  This has kind of come to bother me.  The main assumption being thrown out there as fact is that Montagny is showing up with a big bag of money for the seat. First, the facts:
Andretti Green Racing's primary flaw in their downfall has been consistently credited as the fact that there is no one to help Tony Kanaan setup the car, implying that Danica, Marco, and Hideki just aren't that good at setting up a car in one or two practice sessions pre-race,
Franck Montagny spent 2008 as part of the American Le Mans Series branch of Andretti Green Racing,
Franck Montagny tested AGR's IndyCar equipment last season,
Franck Montagny is a two-time World Series of Renault champion (or whatever they were calling it at the time), and
Franck Montagny was employed in Formula 1 from 2003 through 2007, primarily as a test driver.
These five points point exactly as to why I'm in no way convinced he's bringing a giant pile of cash.  It's pretty straightforward here (points referring to the above):
Point 4 – He's proven himself in the feeders of Europe.
Point 3 – He's got a preexisting relationship with Andretti Green's IndyCar equipment.
Point 2 – Wow, he spent a year in ALMS in a sister program of a major IndyCar team.  Someone else did that.  Whatshisface…that Aussie guy…three points off Scott Dixon for the Series Championship…oh what the heck is his name…Oh yeah, Ryan Briscoe.
Point 1 – AGR can't set up a car right now, which leads me to
Point 5 – You don't stick around Formula 1 for five seasons on no talent.  You *certainly* don't stick around in test roles for five years because you're bringing cash.  Finally, you *do* stick around Formula 1 in primarily testing roles for five seasons because of one skill you possess:  you can develop and set up a car.
Therefore, it's not that the guy is talented enough to get a ride without a big bag of money.  It's that the guy fills a void for Andretti Green, which will likely lose one (Danica), if not two (Danica and Hideki), drivers next season. 
I mean, this guy has been thrown on the same level as Marty Roth and Milka Duno in the past few days (which, if you're wondering where that level is, it's under the bus).  The more I analyze this, the less fair I think it is.  The guy is connected to the team, and I see *absolutely* no signs that he's bringing money.  Yes, it stretches AGR thin at Infine-yawn, but it's likely in terms of an audition for next season. 
The guy is getting labeled because this specific ride kind of came out of nowhere.  Well, that and he's foreign. I don't think that's fair.