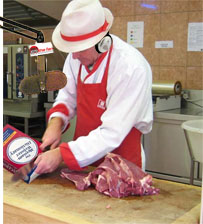 Curtis Cavin and Kevin Lee are letting the freak show loose on the airwaves this week, as myself and my fellow bloggers are going to be allowed airtime on Trackside over at 1070 The Fan.  I guess we're going to be allowed to bring up whatever topic of conversation we'd like in our little few minutes.  Here's what's going through my head:
The Joy of Lawn Care
Mustaches and Their Importance in Auto Racing
How I Don't Live in My Parents' Basement:  A Lesson on how to Balance being both a Blogger and an Acceptable Member of Society
Why the Success of the Series has Nothing to do with the Chassis or Engine and Everything to do with Beer
The IZOD IndyCar Series: Now Even I Pop My Collar
My Beautiful Hair and It's Role in My Awesomeness
Sandy Andretti's Hats, a Retrospective from Afar
Tune in tomorrow, Thursday, November 12, from 7-9 PM EST either over the airwaves of via the internet stream to witness the catastrophe first hand.