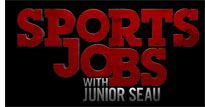 Junior Seau has traveled the sports world doing odd jobs for a new show on Versus.  What's best about it is the cross-promotion it does with Versus' entities.  He'll working with the PBR as a crewman, working with YOUR Washington Capitals as an equipment manager (I would have stolen stuff from Ovie, because he is GOD), and, of course, as a member of the pit crew for Ganassi.  The IndyCar episode will air December 23.   
Most importantly, Versus isn't going to get big if you don't give these things a chance and do your part.  If you're willing to watch Kim Kardashian do whatever it is that Kim Kardashians do, you should watch this.  Why?  Obviously, you're willing to watch anything.
They've treated us *VERY* well, so return their favor.  You can watch the promo here and see some interviews here.
Also, for those of you who still doubt Versus, they are, to this day, the only partner of the IndyCar Series who has ever contacted me to promote their product.  That's why I always give them lovin'.