I'll be honest.  I don't have the discipline to do fantasy sports. I used to, but at some point, I lost it.  Checking in on something with any sort of regularity just doesn't work for me.
That's why I developed…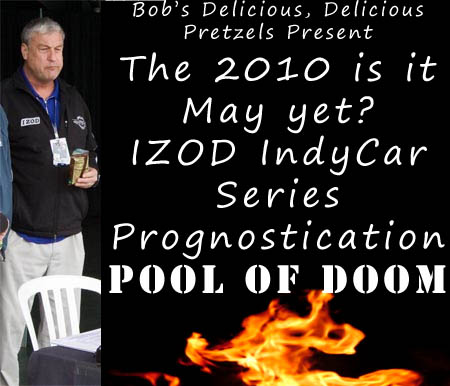 All you have to do is fill it out once, before the season, and you're done until the end of the season.
I think it is pretty self-explanatory, but there are rules at the bottom if you need them.  Basically, you're guessing:
Whether a driver will score above, equal to, or below their final rank in the 2009 points standings,
The number of wins a driver will have in 2010 season,
The number of Top 10s a driver will have this season compared to 2009 (more, equal, less),
and the answer to a few specific questions.
It's that simple!  The scoring is described in the rules, and the margin of victory at Indianapolis is the tiebreaker.
I'll probably throw some sort of prize together at the end, but I haven't thought that far.  That's why I ask for your email.
(Thanks to thehairpin at TrackForum, as I used his silly season list as the baseline, and to Mr. Dog, Mr. Pagdoa, and Mr. nameisirl for additional input)